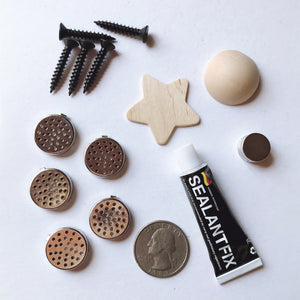 If you're like me, you probably have a container packed full of old coins, rocks, gems, pogs, driftwood, shells and beads that you've collected over the years. These might be some of your most treasured items and yet they spend their life in a container packed away in a junk drawer—rarely looked at and appreciated the way they deserve.
Now you can give new life to these pieces you've lovingly held onto through the years with my suspend.it DIY kit. Your treasures can easily be made into 5 of your very own one-of-a-kind suspend.it so you can finally display them in the way they deserve and for you to enjoy!
If your items weigh under 8 ounces and has a flat back/surface, you can easily turn them into your very own custom suspend.it! 


Included in kit:
* adhesive compound (enough for complete project)
* 5 patented suspend.it hardware pieces 
* magnets
* screws
* 2 embellishments to personalize any way you want or leave as is! (styles vary)

** Please note: item is non-refundable. Adhesive compound does not store long once opened so suggest planning out what you will make before opening item. 
For personal use only, not for resale.