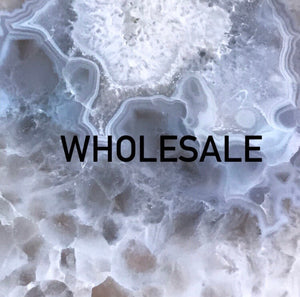 wholesale batch of shaped stained glass. Jump rings attached.
4 purple iridescent ($40)
4 purple lavender swirl ($40)
4 mirror crescent moons ($40)
4 hippy dippy ($40)
6 clear iridescent ($60)
5 agate pieces with soldered edge ($30)


Total: $250 (27 pieces)
Due to the handmade nature of these stained glass pieces, slight variations may occur in the color and texture and shape of the pieces. 
*Stained glass is made with materials that contain lead so please wash your hands after handling as a precaution.